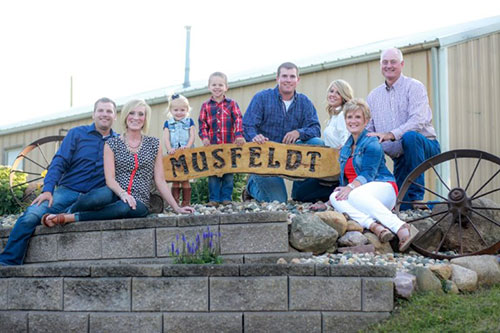 About Us
KM Cattle Company is located near Coon Rapids, Iowa in west central Iowa. Owned by Kent and Jill Musfeldt, it was established in 1964 with the goal of producing high quality registered Angus bulls that provide superior calving ease and maternal traits to cow/calf producers and growth and carcass genetics to feedlots throughout the Midwest to maximize their profit potential. Kent and Jill are both graduates of Northwest Missouri State University. Kent worked his way through college with a custom fitting and artificial inseminating service for many of the historic Angus breeders of the Angus enriched area of northwest Missouri. Kent continued to serve as a herdsman for nationally known herds in Missouri and Oregon prior to returning to NWMSU to manage the University beef herds and bull test under Dr. C.K. Allen, then off to manage Piper Angus Ranch, Kansas City, KS, for 3-years. In the fall of 1990, it was time to expand our herd after having had the opportunity to work for many different types of programs with different types of marketing, management and environments and many top breeders who certainly provided insight and inspiration. Kent also entered the nutrition field at that time and is a beef consultant and sales manager of the Peets Feed division of Biozyme Inc. Jill is a sales associate for Community Insurance Agency in Coon Rapids. Daughter Sara graduated from Northwest Missouri State University in 2008 and is now living by Coon Rapids with husband Justin, who also graduated from NWMSU in 2009 and received his masters from UNI in accounting. Sara and Justin have a 2-year old little girl Tenley Elizabeth Roetman. Sara is now a crop insurance underwriter for Hudson Crop and Justin is a CPA and loan officer for Iowa Savings Bank.
Son Kyle graduated from Iowa State University in May 2013 with a bachelor's degree in Animal Science. Kyle had the opportunity to be a sales & service intern for Accelerated Genetics in the summer of 2012, traveling 9 states helping Accelerated reps with synchronization, insemination, and consultation. Since graduation, Kyle has joined the family Angus operation and also is a Beef Specialist and Sales Representative for Select Sires covering all of the southwest 1/4 of Iowa. Kyle and Kylie were recently married on November 21st, 2015 and live in Coon Rapids with their 4-year old son Colby Benjamin Perrin. Kylie owns her own In-Home Daycare business. Kyle was honored to have a great opportunity to be a part of the Beef Leaders Institute 2015. He was able to take a close up look and learn more about every phase of the Beef Industry from conception to plate with other Leaders of the Beef Industry from all over the country. They toured the American Angus Association (St. Joseph, MO), Boehringer Ingelheim (St. Joseph, MO), Gregory Feedlot (Tabor, IA), GeneSeek (Lincoln, NE), TransOva (Sioux Center, IA), Tyson (Dakota City, NE), CAB Licensee Restaurant (Cleveland, OH), Sysco (Cleveland, OH), and Certified Angus Beef (Wooster, OH).
Touch of History:
Kent's parents Tom and LeeAnn owned the Thomas Musfeldt & Sons herd that had Val-Mar Farms connections dating back to the mid 1960's with the purchase of two bred heifers at the Bread & Butter Angus Sale. Their angus herd expanded in 1973 when Tom & LeeAnn purchased a farm south of Manilla. Then, another expansion in 1977 when Musfeldt & Sons started farming the Val-Mar farmland and in 1978 purchased the nucleus of the Val-Mar Angus cowherd and leased all the facilities allowing them to expand to 250 cows. Kent continues the Angus tradition with Jill and their son, Kyle, operating KM Cattle Company. Interesting that KM Cattle Company's current Coon Rapids headquarters, purchased in 2002, was once a part of the Pingrey Ranch which is where 200 cows from the Escher & Ryan historic angus herd landed in 1924 for Earl Ryan, prior to partnering with the Harrison's of California, which started the Harrison & Ryan operation.